Psalm 96.1-9(10-13)
Isaiah 45.1-7
1 Thess. 1.1-10
Mt. 22.15-22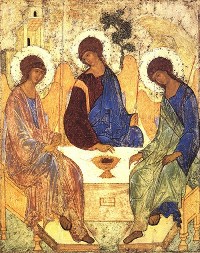 Occasionally the lecture readings so clearly focus on a single topic that only a really clever preacher can find a way to preach on something else. This morning seems to be one of those occasions. If I were to summarize this morning's lectionary readings with a single title it would be "The Difference of God and the Difference It Makes." Since I'm not a really clever preacher, I intend to preach on that topic. What do the readings say about God, and what difference does it make?
To do that, however, I am going to begin with some background. Sometimes in order to understand a topic, it helps to contrast it with something else. And this morning's lectionary readings do that. They contrast faith in the one true God with its opposite – belief in false gods, or idolatry. The Psalm declares "All the gods of the people are worthless idols, but the Lord made the heavens" (Ps. 96:5). In 1 Thessalonians Paul writes to his readers: "you turned to God from idols to serve the living God" (1 Thes. 1:9).
Belief in many gods was a common characteristic of ancient cultures. Not so much today. You have to look far and wide to find a genuine polytheist or someone who worships actual physical idols in contemporary Western culture. There are still polytheists of a sort in Asia. Traditional Hindus and at least some Buddhists believe in "gods" (plural) rather than in one God. And there are still gods (plural) in a lot of traditional tribal religions. But the problem in contemporary Western culture is not a literal belief in many gods, but a lack of genuine belief in any god – what I would call "unbelief." This is not necessarily atheism, but it is a way of living in which belief in the one God has nothing to do with the way that people live their lives day in and day out.
I am old enough to have lived through several different variations of "unbelief." Before terrorists flew airplanes into the Twin Towers in New York City, something called "pluralism" was popular. Often associated with "New Age" Religion, and what is sometimes called "Therapeutic Moralistic Deism," pluralism can be summed up in the saying, "All roads lead to the same destination." Former Episcopal Presiding Bishop Kathrine Jefferts Shori put it this way: when Jesus says in John's gospel that he is the way, the truth. and the life, what that means is that Jesus is the way for Christians, not that Jesus is the way for everybody. The primary assumption of pluralism is that there is nothing unique about the Christian God.
The New Atheism appeared right after the fall of the Twin Towers. While pluralism might be willing to admit that there is at least some kind of God, the whole point of the New Atheism is to deny that any God exists. The New Atheists thrive on ridicule, combined with silly arguments that they think are really clever arguments. (more…)