(The following is based on a talk I gave as part of a TSM panel, addressing the question "What is Evangelicalism?)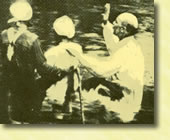 I teach at "Trinity School for Ministry: An evangelical seminary in the Anglican tradition." What does that word "Evangelical" mean? In what sense am I an Evangelical Anglican? There are at least three ways in which the word "Evangelical" could function in relationship to Anglicanism. First, it could simply be pointing to the Reformation heritage of Anglicanism. Like Lutheranism or the Reformed tradition, Anglicanism traces its roots to the Protestant Reformation of the sixteenth century, including such definitive markers as the three (or five) solas: sola scriptura, sola gratia, sola fide, solus Christus, soli Deo gloria. The term could also refer to a particular movement within Anglicanism that focuses on Anglicanism's Reformation identity. An extreme version of this kind of Evangelical Anglicanism would understand pristine Anglicanism to have existed for the short number of years during the reign of Edward VI between Cranmer's second Prayer Book of 1552 (definitely not the 1549), and the beginning of the reign of Queen Mary. Definitive identity markers would include the 1552 BCP, the 39 Articles (1563) and the Book of Homilies (1547, 1562, and 1571). Much later Anglicanism (beginning with the Caroline Divines and perhaps Richard Hooker) would be interpreted as a "falling away" from these original pristine touchstones. I intend rather to use the term to refer to a more recent distinctly American phenomenona – North American Evangelicalism of the mid-20th and early 21st centuries. This is the context of my own upbringing, but also the church background of the majority of TSM's faculty and students. What might an orthodox 21st century North American Anglicanism have to offer this American version of Evangelicalism?
I will begin with a bit of autobiography. I was raised a Southern Baptist. During my high school years, I got involved for a short period of time in what was then called the "Jesus Movement," and attended a Friday night service every week where people raised their hands and sang in tongues. I was also involved in the youth group of a Southern Baptist megachurch. At the same time, I discovered the writings of C. S. Lewis and J. R. R. Tolkien, and in a two-year period read all of Lewis's major published writings.
I attended an Evangelical liberal arts college in Denver where I majored in philosophy. Evangelicals were not writing theology at this time, but they were interested in apologetics, and I thought that philosophy would be a handy tool for apologetics. I discovered Thomas Aquinas, but Aquinas at this time was being read primarily as a philosopher. During my senior year in college, I discovered the writing of Wolfhart Pannenberg, but I was interested in Pannenberg because of his value for apologetics. Pannenberg defended the historical verifiability of the resurrection of Jesus. Pannenberg was the first "real theologian" I ever read, and I called myself a "Pannenbergian" for awhile. I used terms like "proleptic anticipation of the eschaton."
Toward the end of my time in college, a number of theologians produced a document called The Hartford Appeal, a criticism primarily of trends in liberal Protestant theology. In the collection of essays that the participants entitled Against the World For the World: The Hartford Appeal and the Future of American Religion, Peter L. Berger and Richard John Neuhaus, eds. (NY: Seabury, 1976), Richard Mouw of Fuller Seminary contributed the essay, "New Alignments: Hartford and the Future of Evangelicalism."
In that essay, Mouw identified three groups of American Evangelicals existing at the time.
1) Fundamentalism was a group that came into existence in the early twentieth century in opposition to and as a rejection of Liberal Protestantism in the mainline churches.
2) NeoEvangelicalism was identified with successors of Fundamentalism who broke with its narrowness in the mid-twentieth century: Billy Graham and the journal Christianity Today were two of its cultural identifiers.
3) In contradistinction from both Fundamentalism and NeoEvangelicalism was "Confessionalism," identified with members of historic Reformation denominations who did not trace their roots to American sources: Lutheran, Reformed, Episcopal, Mennonite. These groups sometimes formed an uneasy alliance with Evangelicalism although they did not share its historic roots, and each had its own distinctive confessional identity. (more…)