If God is for Us: A Sermon
Psalm 78
Nehemiah 9:16-20
Romans 8:35-39
Matthew 14:13-21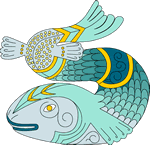 I begin my sermon this morning with a question: What's going on in the lectionary? During the Season after Pentecost, what is sometimes called "ordinary time," the lectionary practice is to read through one of the synoptic gospels chapter by chapter and an accompanying epistle the same way. Because the New Testament readings are sequential like this, there is not usually any evident connection between the gospel reading and the epistle reading. What Matthew is saying in his gospel may or may not have anything to do with what Paul is saying in the epistle to the Romans.
Whether it was intended by the lectionary compilers or not, I think that there is a parallel between the epistle and the gospel readings this morning. Let's begin with the epistle. Romans 8:31-39 is the climax of everything Paul has been writing up to this point in the letter. The main theme in the lectionary reading is God's love, and is a repetition of what Paul had already said in Romans 5:1-11. In Romans 5, Paul wrote, "[W]e rejoice in our sufferings . . . because God's love has been poured into our hearts through the Holy Spirit who has been given to us. . . . God shows his love for us in that while we were still sinners, Christ died for us." (5:2,5,8) In this morning's reading, Paul says, "For I am sure that neither death, nor life, nor angels nor rulers, nor things present nor things to come, nor powers, nor height nor depth, nor anything else in all creation, will be able to separate us from the love of God in Christ Jesus our Lord." What Paul writes here is a continuation of what we read in last week's lectionary reading: "What then shall we say to these things? If God is for us, who can be against us? He who did not spare his own Son but gave him up for us all, how will he not also with him graciously give us all things?" (8:31-32)
If God is for us, who can be against us? Paul lists a number of things that might suggest that God is not for us. "Who shall separate us from the love of Christ? Shall tribulation, or distress, or persecution, or famine, or nakedness, or danger or sword?" (8:35) People often list just the kinds of things that Paul mentions here as proof that there is no God, or if there is a God, he is not for us, but against us. If I am suffering tribulation or distress, perhaps that means that God has abandoned me. If I cannot provide food for my family, perhaps that means that God does not care for me. If the world is full of violence and war, perhaps that means that there is no God, or God would prevent such things. If Christians suffer persecution, perhaps that means that there is no God because if there were a God, certainly he would protect those who claim to believe in him.
Paul has one response to all of this. We know that God is for us because of an event, something that has happened – the life, death, and resurrection of Jesus Christ. We know that God is for us because he has given us his Son. In giving us his Son, God has revealed his nature. God has show us in Jesus what he is like. God is love.
A major theme in the letter to the Romans is God's justifying righteousness. Theologians have written shelves of volumes on Paul's doctrine of justification, and justification language is court room language – the language of judgment. Many people interpret these courtroom metaphors to mean that God is primarily a judge. No one wants to be judged, and that is why many people, like the New Atheists, reject the God of the Bible. A God who is a judge is a God who hates sinners. We're all sinners, and why would you want to have anything to do with a God who hates you?
But if we're going to reject the God of the Bible, then we need to carefully read the Bible first. Paul's argument is not that because God is a judge, therefor God hates sinners. Paul's argument is that God loves sinners, and because God loves sinners, he has dealt with the problem of our sin, not by condemning us, but by taking our judgment on himself in Jesus. That's what justification means. We don't have to be judged because Jesus was judged instead. God is not the prosecuting attorney who wants to find us guilty. God is our advocate who has found us not guilty. If you're arrested, when you receive your Miranda Rights, you're told, "If you cannot afford an attorney, one will be provided for you." The whole point of Paul's doctrine of justification in the letter to the Romans is that Jesus is the attorney who has been provided for us. Paul asks "Who shall bring any charge against God's elect? It is God who justifies. Who is to condemn? Christ Jesus is the one who died – more than that, who was raised – who is at the right hand of God, who indeed is interceding for us." (8:33-34). Paul rightly asks, "If God is for us, who can be against us?"
What does this have to do with Matthew's gospel? The lectionary reading in Matthew's gospel is the story of the feeding of the multitudes with a few fish and a handful of loaves of bread. It is the only miracle story told in all four gospels. The gospel writers obviously thought that it was an important event.
What do we make of the miracles in the Bible? A lot of modern biblical scholars and even ordained clergy are uncomfortable with them. I once heard an Easter sermon preached in an Episcopal Church in which the priest said that the good news of Easter was that modern biblical scholars have shown us that we don't have to believe that Jesus rose bodily from the dead. I'm not sure why this priest thought it was such good news to believe that Jesus was a ghost.
But miracles play a central role in many of the biblical narratives. To reject them outright makes the whole thing incoherent. And there is one key miracle at the heart of Christianity – the bodily resurrection of Jesus. Jesus is not a ghost. He is alive. As Paul writes, "Christ Jesus is the one who died – more than that, who was raised – who is at the right hand of God, who is interceding for us." (8:34) It is because Jesus is alive that he can intercede for us. Other biblical miracles make sense in light of the resurrection.
What are the characteristics of miracles in the Bible? First, miracles are wonders. They grab our attention by pointing out to us that something unusual is going on. Think of the story of Moses and the burning bush. According to Exodus, when Moses saw the bush, he said, "I will turn aside to see this great sight." (Exodus 3:3) The New Testament tells us that people regularly responded to Jesus' miracles with wonder and amazement (Mark 1:27, Matt. 8:27).
Second, miracles are signs, which is the gospel of John's favorite word to describe them. They show that the Creator is present. In C.S. Lewis's book, Miracles, he points out that the miracles of the Bible are not magic. They're not like the Fairy Godmother in Cinderella who turns a pumpkin into a coach or mice into coach drivers. Rather, they are examples of the kinds of things that God does always in creation. So, in John's gospel, when Jesus turns water into wine, this is nothing different than what God does all the time. Every year, God turns water into wine through the process of vines that take sunlight and water and soil and transform them into grapes, grapes which ferment and become wine. At the wedding in Cana, Jesus just made it happen faster. In the feeding of the multitudes, Jesus took a few loaves and a handful of fish, and multiplied them. But every year, God creates much wheat from individual seeds that are planted, multiplied, harvested and made into bread. Every year, a few fish multiply to many fish. When Jesus fed the crowds, he again did what God does all the time. He just sped up the process.
Miracles are also signs of salvation and healing. They show that God is for us. They show that evil will not triumph. The ordinary course of the world, which so often threatens humanity, is reversed. Through Jesus' miracles, the blind see. The deaf hear. The dead are raised to life. These miracles are signs of the new creation in which there will be no more sickness, everyone will see, everyone will hear, and no one will die.
And, of course, the point of all of this is that there is one great miracle, and that is the incarnation of God in Jesus Christ. There was a television show a few years ago called Joan of Arcadia and the theme song had the lyrics, "What if God were one of us, just a slob like one of us?" In Jesus, the Son of God himself has become a human being, and lived as one of us. The incarnation means that God has come among us in person in Jesus, and the miracles draw our attention to who he is. When John the Baptist was in prison, he sent his disciples to Jesus to ask, "Are you the one to come, or should we wait for another?" Jesus responded, "Go and tell John what you hear and see: the blind receive their sight and the lame walk, lepers are cleansed and the deaf hear, and the dead are raised up, and the poor have good news preached to them." (Matt. 11:3)
What is going on in the miracle of the multiplication of the loaves? First, this miracle points back to the time when God fed Israel with manna in the wilderness. In our reading from Nehemiah this morning, we find that the manna was a sign both of God's patience with sinners, and also evidence of God's love: "You gave them bread from heaven for their hunger and brought water for them out of the rock for their thirst. . ." Even when Israel did not obey God, Nehemiah says, God did not forsake his people: "[Y]ou are a God ready to forgive, gracious and merciful, slow to anger and abounding in steadfast love, and did not forsake them. . . . You gave your good Spirit to instruct them and did not withhold your manna from their mouth and gave them water for their thirst. Forty years you sustained them in the wilderness, and they lacked nothing." (Nehemiah 9:15-21) Throughout the forty years, the manna that appeared every day was a sign from God that God had not given up on Israel. He will not give up on us.
The feeding of the multitudes also reminds us of Jesus' meals with sinners. We all know the story about Jesus eating a meal with the tax collector Zacchaeus. Tax collectors were considered the lowest of the low in Jewish culture because they were collaborators with the occupying Romans. They were traitors to their own people. In ancient Middle Eastern culture, the hospitality of sharing a meal with someone was considered to be a sign of acceptance. If you were a Jew, you would not eat a meal with a tax collector any more than Republican House Speaker John Boehner would call Democratic President Barack Obama on the phone and ask "How about going out and seeing a movie tonight?" By eating with sinners like Zacchaeus, Jesus showed God's love for them. As he said to his opponents, "I have come to call not the righteous, but sinners to repentance." (Luke 5:32)
The feeding of the multitudes is also a sign pointing forward to the eschatological meal when all will eat at God's table. God is is in the process of setting all things right, and this miracle is a reminder of that. As Jesus' miracles of healing point to a time when there will be no illness, the miracle of the loaves points to the time when there will be no hunger.
Finally, the multiplication of the loaves points forward to the eucharist, the church's meal in which Jesus shares his risen life with us when we drink wine and eat bread. This is a central theme in John's gospel. In John 6, after the miracle of the loaves, Jesus says, "I am the bread of life; whoever comes to me shall not hunger and whoever believes in me shall never thirst. . . Whoever feeds on my flesh and drinks my blood has eternal life, and I will raise him up on the last day." In the wine and bread of the eucharist, Jesus meets us as our host, and we are welcomed as his guests.
How does the miracle of the loaves and fishes fit in with what we have read this morning in Romans 8? The key connection between both passages is their focus on Jesus as the revelation of God's love for and acceptance of sinful human beings. Jesus is both the sign and guarantee that God is for us, that he loves us, that he will not abandon us or forget us.
That God is for us does not mean that we will experience no difficulty, no suffering, no illness or sorrow. We will still experience these things, and, in the end, we are all going to die. It is precisely because we experience and are threatened by these things that we need to hear the promise of God's love because it is these things that lead us to worry about whether or not God really does love us. Paul mentions three specific kinds of threats in Romans, and my own hunch is that they are exhaustive.
The first threat is judgment. Consciousness of our sinfulness, or even of our own inadequacies and failures can convince us that God does not love us. Sometimes we cannot even live up to our own standards of perfection, let alone God's. Paul's response is to say that Jesus died to save sinners. God does not condemn us. He justifies us. Jesus does not condemn us. He intercedes for us.
The second threat is human injustice to other human beings. The news has been full of reminders in recent weeks that human beings can do horrible things to other human beings. In Iraq, Christians have been driven out of the city of Mosul, and have been threatened with death. In northern Nigeria, Boko Haram kidnapped hundreds of teenage girls a few months ago, and they continue to commit acts of terrorism that kill innocent people every day. In Israel, a war is waging in Gaza. There are times when such evil done by human beings to other human beings is overwhelming. Paul's response is not to say that such evils do not matter or that they are not evil, but to assure us that "In all these these things, we are more than conquerors through him who loved us." (8:37)
Finally, there is natural evil: sickness, accident, death. From time to time we all receive reminders of our mortality. Dear friends become ill and are diagnosed with terminal diseases, family members die. We pray and beg God for healing, and sometimes miracles do indeed happen. But sometimes it seems that our prayers are not heard, and those we most care for die. But Paul reminds us that not even death can separate us from God's love. "Neither death nor life, nor angels nor rulers, nor things present nor things to come, nor powers, nor height nor depth, nor anything else in all creation, will be able to separate us from the love of God in Christ Jesus our Lord." (8:38)
What should be our response to this message of God's love for us, a message we hear from both Paul and in the gospel story of the miracles of the loaves? I am going to suggest three possible responses. What makes these responses interesting is that they are directly contrary to the characteristic responses of much of our contemporary culture.
The first response is gratitude. If Paul and Matthew are right, then everything we have is a gift. Gratitude is the recognition that life is a gift, and God's salvation in Christ is a gift. Nothing can separate us from God's love, but ingratitude can lead us to forget that God loves us. Irony is the characteristic attitude in today's culture that refuses to see life as a gift. If gratitude is the recognition that all that we have is a gift, irony is the attitude that pretends to see through everything, that can find a gray cloud in every silver lining, that asks about every gesture of God's providence, "What's the catch?" God's love rescues us from irony. In the end, God's love overcomes hardship, and because that is true we can be grateful to God even in times of hardship.
The second response is trust. We do indeed live in what is sometimes a horrible world. People do evil things to other people. We may even find that we have been treated unjustly even by those of whom we expect more, by fellow Christians, or by those we love most. There is perhaps nothing more difficult to forgive than betrayal by a friend or a spouse. Suspicion is the characteristic attitude of contemporary culture that is the opposite of trust. Trust is not the denial that bad things happen, but the recognition that we can respond to each bad thing with mindfulness rather than suspicion because we know that God can be trusted, even when others fail us.
Finally, there is hope. The temptation when bad things happen is to give up, to throw up our hands, and ask what is the point? Cynicism and despair are the ways in which contemporary culture often sends the message that there is no point. In the end, our culture says, our only real option is to shrug our shoulders and perhaps respond with witty sarcasm, because after all, as they say, "What are you gonna do?" But hope is the recognition that there is no need for cynicism because God has done something. In the grand miracle of the incarnation, God has become one of us in Jesus, he has taken on himself in the cross of Christ all of the sin, judgment, pointlessness and evil that the world can throw at him, and in his resurrection, Jesus Christ has laughed at death. Death was the wildest curve ball that the world could pitch at the incarnate Son of God. Jesus took a swing at death, and he knocked it out of the ball park. To use a euphemism, Jesus took on death, and he kicked its behind. We can be full of hope because in Christ, God has defeated even death, and he is on our side. As Paul asks, "If God is for us, who can be against us? . . . In all these things, we are more than conquerors through him who loved us."