Song of Songs 2:10-13 and 8:6-7
Psalm 127
Revelation 21:1-7
Mark 10:6-9
For Paul Hunter and Christina Vance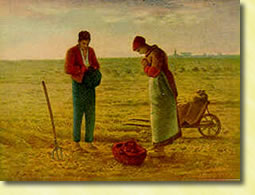 I am honored to preach this morning for the wedding of two of my former students, both of whom I am exceptionally fond. Although faculty do not have favorite students, if they did, Christina and Paul would have been two of my favorite students when they were at Trinity School for ministry, where I teach.
I want to make just a few comments about the lectionary readings, beginning with the gospel. The gospel reading points back to the creation narratives of the first two chapters of Genesis, the first book in the Bible. The context is that Jesus is being asked about whether divorce is ever permissible, and he responds by quoting the 2nd chapter of Genesis: "From the beginning of creation, God made them male and female. Therefore a man shall leave his father and mother and hold fast to his wife. So they are no longer two but one flesh. What therefore God has joined together, let no one separate." (Matt. 19:4-6; Gen. 2:24) The Bible begins with marriage. In Genesis 1 we are told that God said, "Let us make the human being in our image, after our likeness. . . . So God created the human being in his own image, in the image of God he created him; male and female he created them." (Gen. 1:26-27) The first chapter of the Bible tells us that to be a human being is to be created in the image of God, and to be created in the image of God is to be male or female. It is only as male and female together that we as humans reflect what it means to be created in God's image.
In Genesis 2, we are told that God created woman because the first human being was alone, and needed a partner. "Then the Lord God said, 'It is not good that the human being should be alone." (Gen. 2:18) In Hebrew, the word for "human being" is ha'adam, which is the same word as the name "Adam." The English language has historically not made a distinction between human being and male human being. English often uses the word "man" for both. But Hebrew does use different words for generic "human being" and "male human being." The Hebrew word "ha'adam" does not mean male human being, but simply "human being." It is only when God brings the woman to the human being – to Adam – that we first find the use of the word for "man" or "male human being" in the Hebrew text: "This at last is bone of my bones and flesh of my flesh; she called be called woman, because she was taken out of man." (Gen. 2:24) It is only when the female human being – the woman – comes into the picture that the original human being is recognized as a male human being – a man.
The point is this, both Genesis 1 and Genesis 2 make it clear that men and women are made for each other, and what it means to be a human being is defined by our relationship to other human beings. Those of us who are men – male human beings – are human beings only as we are in relation to women – female human beings. Women – female human beings – are human beings only as you are in relation to us – male human beings. God intended us to be with one another, and marriage makes this clear. It is marriage that is the foundation of all other human relationships. As human beings, we are not meant to be alone; we are not human beings alone, but only with one another. So the first thing that marriage teaches us is that human beings need one another. We are made to be together.
(more…)