Exodus 19:3-8
Psalm 15
1 Peter 4:7-11
Matthew 16:24-27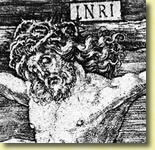 The lectionary readings this morning are Ember Day readings. Historically, in the Western church, Ember Days are a set of days set apart for praying and fasting and for the ordination of clergy. These readings all have an ethical focus, and they strike me as particularly appropriate given events that are happening in our culture right now.
Our country is in the midst of what can only be called an ethical crisis, the center of which seems to lie in an inability to discern whether there is such a thing as a common cultural good. Here are a few examples.
You can attend a conference in Washington D.C. next week called the "Values Voter Summit," where you can hear speakers like Dr. Ben Carson, Kellyanne Conway, Vice President Mike Pence, and Secretary of State Mike Pompeo talk about moral values. Meanwhile, the subject of the news the last several months has been how much their boss, the President of the United States, did or did not know about a hush money payment made to a porn star, and how one after the other of the president's associates keep pleading guilty to various felonies. So much for voting your values.
The other big news in the secular culture over the last year or so has been the "me too" movement, in which various famous men mostly connected with the entertainment industry have been accused of sexual harassment and sexual misconduct. It turns out that household names that people once admired have a dark past. You know the names so I don't need to mention them. The list keeps growing longer, and Time Magazine has a regularly updated online list of 141 names so far.
If these kinds of things were only happening in the secular culture, outside the church, perhaps Christians could afford to be glib. After all, what do you expect of those people? What should give Christians reason to pause are recent revelations of moral misconduct by Christians in places of leadership. Last month, a Pennsylvania Grand Jury Report accused 300 Catholic priests of sexually abusing over 1,000 children, and of the hierarchy of the Catholic Church engaging in a massive cover-up of this abuse.
You might think that this does not concern those of us who are not Roman Catholic, but that would just mean that you have not been paying attention. While perhaps not as widespread, sexual abuse is not confined to Catholic clergy. I could tell you what I know about cases of sexual abuse by Anglican and Episcopal clergy,
And there are other areas of moral crisis within the church, particularly the ongoing crisis about sexuality that has led to a kind of slow motion dissolution of the Anglican communion over the last decade and a half. At its General Convention this summer, the Episcopal Church laid down an ultimatum that will make it even more difficult for orthodox clergy to stay within that church. If the clergy go along, they will be forced to compromise their consciences and to allow in their churches what they understand to be a violation of faithfulness to the Scriptures as God's Word, and to their ordination vows. If they refuse to go along, they may find themselves subject to deposition and to losing their congregations. Those who have left or are considering leaving will face law suits over property and the pain that comes with division as some go and others stay.
What, if anything, do these incidents have in common? I would suggest three factors.
First, in each one of these cases, the people involved are good people. (more…)