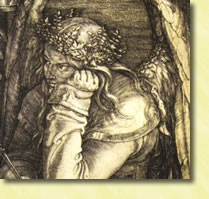 Much of what I have written on my blog has been addressed against what is called either (depending on which side of the Reformation one hangs one's hat) Liberal Protestantism or Catholic Modernism. (One of the advantages of being Anglican is that one can embrace either heresy. When Anglican Evangelicals go bad they become liberal Protestants. When Anglo-Catholics go bad, they become Modernists.) Within the parameters of the church, I consider liberalism to be the greatest heresy today because it denies the central subject matter of the Christian faith as taught in the Scriptures, and summarized in the ecumenical creeds: the doctrines of the Trinity, the incarnation of God in Christ, the atoning death and resurrection of Jesus Christ.
Numerous essays on my blog address this heresy in one way or another. Even the issue of same -sex sexual unions, which is the key issue of controversy dividing the Western churches these days, I regard as church dividing precisely because I see an inherent connection between affirming same-sex activity and denying key doctrines of Christian faith. It is not a coincidence that the leading advocates of SSUs have also been functional unitarians and/or panentheists. (I think of people like retired Bishop John Spong, the late Marcus Borg, and Sallie McFague. Despite a caginess that makes her hard to pin down, I think it clear that Episcopal Presiding Bishop Katherine Jefferts Schori is solidly in this camp.) There are, of course, exceptions, including some theologians whom I have admired and who have influenced me: Stanley Hauerwas and George Hunsinger, in particular. However, they really are exceptions. Precisely because Scripture is so clear on this issue and it is tied so closely to the doctrine of creation (and, I would add, even the doctrines of the Trinity and ecclesiology), where one stands on SSU's predictably indicates where one stands on creedal issues.
Advocates of theological liberalism/modernism in the church regularly refer to those who disagree with them as "fundamentalists," and I have been the recipient of this accusation myself. John Spong's book Rescuing the Bible From Fundamentalism is a typical example. The joke is, that for theological progressives, a "fundamentalist" is anyone who believes more of the Christian faith than the one using the epithet. For Spong, Jerry Falwell and Billy Graham were "fundamentalists," but so was Karl Barth, and New Testament scholar N.T. Wright. If a fundamentalist is anyone who believes more than Bishop Spong, then the term is vacuous. To refer to N.T. Wright as a fundamentalist is just another way of saying that one disagrees with him, and, because he does not affirm one's views, he must be either evil or foolish or both. The fundamentalist accusation saves the time of actually having to address the arguments of someone like Wright. (I have used Wright as an example precisely because his position is ambiguous. Wright's "New Perspective" work on the apostle Paul has led him to be labeled a dangerous "liberal" by some advocates of a traditional Reformation reading of Paul.)
That a term can be misused does not mean that it cannot be used meaningfully at all. That Karl Barth and N.T. Wright are not fundamentalists does not mean that there are no such people. What is a fundamentalist? Historically, the term originated early in the twentieth century with the publications of a series of books entitled The Fundamentals, written by a number of conservative Protestant theologians in response to the rise of liberal Protestantism. With the separation of J. Gresham Machen from Princeton Seminary, the founding of Westminster Seminary and the Orthodox Presbyterian Church, fundamentalism became associated with conservative separatist Protestantism. In the mid-twentieth century, the rising movement then known as Neo-Evangelicalism (associated with Billy Graham and institutions such as Fuller Seminary and Christianity Today magazine) distanced itself from fundamentalism as a conservative Protestant movement that was more academic, more ecumenical, and open to aspects of the civil rights movement of the 1960's. With the rise of the (political) religious right in the early 1980's and the social and political division of the culture wars of the late twentieth century that divided not only political parties but also religious denominations, internal divisions over issues such as the inerrancy of scripture and women's ordination, clear-cut divisions between what were now called conservative Evangelicals and fundamentalists once again tended to blur.
To describe fundamentalism by its history in this way could lead to the impression that fundamentalism is restricted to a particular historical phenomenon within a specific religious tradition – that of conservative Protestantism. To do so would be to fail to locate the theological nature of fundamentalism, and would view it as an isolated phenomenon – which would be a mistake. Fundamentalism is not so much a particular movement within the specific religious tradition of Protestantism as a type that has appeared not only within Protestantism, but in other Christian traditions as well.
Fundamentalism has at least two characteristics: first, it is a distinctly modern phenomenon. It appeared at a time when Christian identity was threatened by the rise of modern secularism that has its origins in the Enlightenment, and when secularism was perceived to have infiltrated even the Christian churches. And, second, fundamentalism is reactionary. Fundamentalism identifies itself in terms of that which it rejects as much as or more so than what actually defines it. Once one recognizes that fundamentalism is both modern in origin and reactionary, it becomes evident that fundamentalism is not simply identifical with conservative or orthodox Christianity; one can also speak of fundamentalism outside of the narrow historical parameters of twentieth and twenty-first century American Protestantism.
How to identify fundamentalism? I have found the following three descriptions to be at least helpful. (more…)