About Me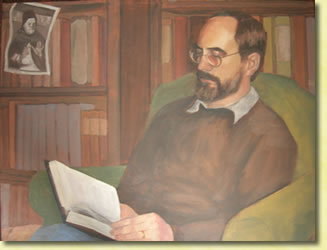 I am  Associate Professor of Systematic Theology and Ethics at Trinity School for Ministry, where I am in my twelfth year of teaching. My chief areas of interest are Systematic Theology, Historical Theology, and Philosophical Theology. I also have interests in Theological Ethics (Moral Theology) and Liturgical Theology. I consider myself to be either a Barthian Thomist or a Thomist Barthian, claiming both Thomas Aquinas and Karl Barth as theological influences.
I received my Ph.D. from the University of Notre Dame, where I wrote my dissertation on "Creation, Redemption, and Grace in the Theology of Jacob Arminius."
I am a lay person living in the Anglican Diocese of Pittsburgh, previously living and working in Connecticut; Arlington, MA; South Bend, Indiana (University of Notre Dame), and Denver, Colorado.
Besides studying and teaching theology, I have earned my living by doing web application programming, working in a homeless shelter, and even worked at Harvard University while I researched and wrote my dissertation.
I like classical music, jazz, and traditional "folk music," ranging from Celtic to Bluegrass to Ladysmith Black Mambazo. I may be the only person at Trinity who does not play ukelele, although I have been learning to play mandolin the last several years.  My wife Jennie (who is an artist) agrees that I am  a pretty good cook. I make good green chile and gumbo. (Jennie painted the portrait on this page. My beard is now white, and my hair is a bit grayer these days.)